Tel Aviv — German Chancellor Angela Merkel probably didn't expect her visit to Israel to turn her into a feminist icon. But when Prime Minister Benjamin Netanyahu hosted her at a meeting with Israeli innovators in October, Merkel pointed out something that should have been obvious to everyone, especially Netanyahu's public relations team. "It would be better if next time there was a woman among all those hopeful pioneers of the future," said Merkel, surrounding by 30 men in suits. The embarrassing photo-op went viral in Israel and Germany.
Israel, nicknamed the Startup Nation for being the country with the highest concentration of startups, has struggled with the same gender gap that has plagued Silicon Valley. Yet women are not invisible in Israel's powerful hi-tech industry. In fact, they represent a quarter of the country's hi-tech workforce. The all-male meeting combined with Merkel's response sent a wakeup call to the women of Startup Nation that they need to make themselves seen more prominently and heard more loudly. It's not enough to merely exist in this space, they realized. It's crucial to band together and lift each other up so that the rest of the country—particularly young women—sees what a powerful force women are playing in a tech world that is slowly shedding its reputation as an old boy's club.
The following week, Israeli women staged their own photo-op in response. Surrounding a life-sized figurine of the German Chancellor, female (and some male) members of Israel's hi-tech sector gathered in Tel Aviv—and in Palo Alto, New York, London and Berlin—to show the world what Israeli innovation really looks like. Or at least what they hope it will look like someday.
The all-male meeting combined with Merkel's response sent a wakeup call to the women of Startup Nation that they need to make themselves seen more prominently and heard more loudly.
According to the Israel Innovation Authority, which organized the now infamous male-only meeting, gender equality is a primary concern of the Israeli government. Noting that less than 10 percent of Israeli tech entrepreneurs are women, Naomi Krieger Carmy, head of the authority's societal challenges division, says, "Bringing more women into high-tech and specifically into technological entrepreneurship is a priority Israel shares with many other leading countries."
While Israel's hi-tech reputation is world-renowned, this tiny Mediterranean country faces a severe talent shortage that could become an existential crisis. Closing the gender gap could help solve that problem, says Krieger Carmy. "The Israel Innovation Authority sees integrating more women into the high-tech ecosystem an important step to realizing the full innovation potential of the economy, to addressing the shortage of human capital in the tech industry, and to working towards a more equal and just society." Nevertheless, there is no government program designed to achieve that goal. Meanwhile, there are government programs to help ultra-Orthodox men enter the tech workforce.
Many argue the government isn't taking the problem seriously enough. "If we won't include more and more women in entrepreneurship and hi-tech, we won't be Startup Nation much longer," says Galit Desheh, director of Power in Diversity, an initiative to increase diversity in the tech community by offering best practices and matching companies with diverse job candidates. "We're in a highly competitive global environment, and the key to ingenuity and agility is diversity in general, and gender diversity in particular."
Rather than waiting for the government to take action, Israel's female entrepreneurs are doing what they do best: taking matters into their own hands. In many cases, they're getting help from American tech giants with offices in Israel.
Over the past six years, Israeli women have launched dozens of grassroots organizations and initiatives to bridge the gender gap. The organizers of those female photo-ops with the cardboard cutout of Chancellor Merkel were the same women that have been working for years to make Startup Nation a more welcoming place for women. And while all of these organizations are working toward the same goal, each has a unique approach to tackling the diverse aspects of this multifaceted problem.
Yazamiyot was one of the first Israeli organizations created by female techies for female techies. Founded in 2012, Yazamiyot works with nearly 4,000 female entrepreneurs, offering a startup class for aspiring founders, a Google Campus for Moms and an accelerator for women in partnership with Microsoft. Yazamiyot—Hebrew for "female entrepreneurs"—also holds monthly networking events. At the December event, held in conjunction with the U.S. Embassy, Israel's Economy Ministry and the Israel-Russia Chamber of Commerce, the room overflowed with investors and business leaders eager to hear about women-led ventures.
Founded in 2013, SheCodes has over 30 branches throughout Israel and has taught coding and computer programming skills to over 20,000 girls and women, from those with no coding background to those looking to advance within the field. SheCodes is supported by the Israeli government, the U.S. State Department, IBM, Intel, and other major American and Israeli corporations. It receives free operating space from dozens of Israeli universities and hi-tech companies, including Ben Gurion University, Cisco and Check Point.
Dalit Heldenberg, a product manager at Israeli startup Gloat, has spent nearly two decades in high-tech. Although she worked with other women, she saw that as she moved up the ladder, the women disappeared. So, in 2014, Heldenberg recruited her friend Shira Weinberg Harel—who she met on Twitter in 2009 when "you could get all the Israeli Twitter users in one room"—to establish the Israeli branch of Girls in Tech, a San Francisco-based nonprofit organization. In 2016, they launched their own nonprofit, LeadWith. Designed to help women in tech advance their careers, LeadWith offers workshops focused on practical skills, such as public speaking, communicating with confidence, and negotiating a salary or raise. With 4,000 members, LeadWith hosts mentoring events featuring male and female mentors in leadership positions, and monthly workshops for women on maternity leave who can bring their babies with them.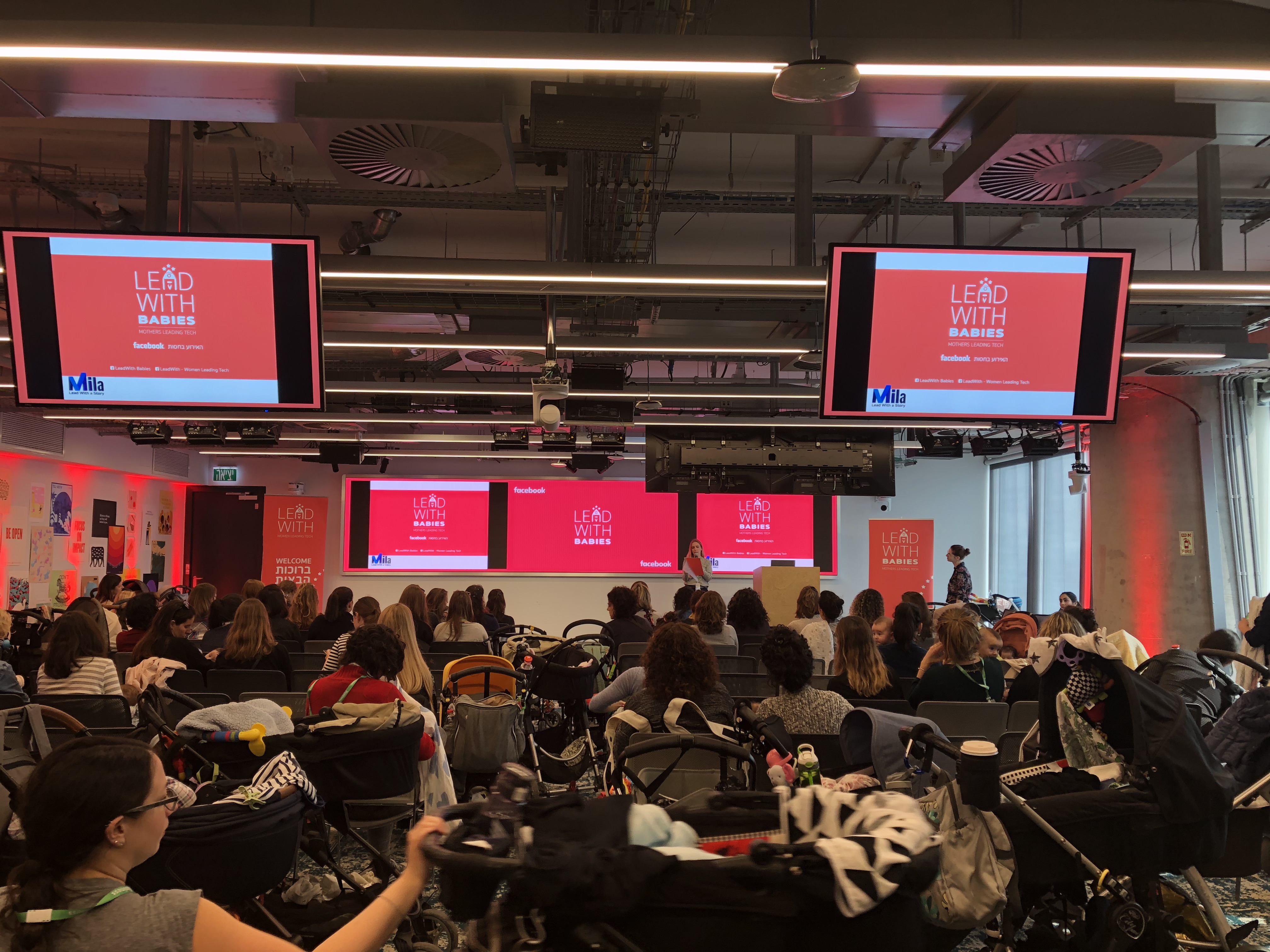 Photo courtesy of LeadWith.

"The idea is to stay up to date during your maternity leave, to hear professional discussions and not just talk about babies," says Weinberg Harel, a product manager at Microsoft's Tel Aviv office, who recently became a mother. Microsoft is one of their biggest sponsors, and Facebook recently began hosting the "LeadWith Babies" events.
In March 2015, after noticing the shortage of female speakers at business conferences in Israel, serial entrepreneur Hana Rado launched Supersonas. Designed to increase the ratio of women speakers—which Rado estimates is just 10 percent—Supersonas is a digital Rolodex of women at the top of their fields. Conference organizers, TV producers, journalists—anyone looking for a woman to speak on a given topic—can visit the website and search through a pool of 1,800 female leaders and experts. Rado, the chairwoman of McCan Valley and Spring Valley, also leverages the Supersonas Facebook community of over 10,000 followers to call attention to conferences that exclude women. In December, the major Israeli business newspaper Calcalist publicized a conference with two women and 18 men. Rado wrote a post on Facebook, and by that evening, the conference had seven female speakers.
"The fact that we even need this is awful," Rado says, speaking of her own initiative. "We are 51 percent of the country." Supersonas also has a group called Mankaliot— meaning female CEO's—which meets monthly. The most important thing they do, says Rado, is support one another. "Because even the strong no one is holding up," she says. When a woman is chosen to lead a company, Supersonas writes about her and publicizes her story, bringing attention to women in leadership roles not only so girls and women can have role models, but so the public sees that women are just as capable as men are of leading.
Still, there is a long way to go. According to Supersonas, women represent just 12 percent of members of the board of directors at Israel's largest companies and only 4 percent of CEOs at the top 100 companies listed on the Tel Aviv Stock Exchange. Though Israel was the second country to elect a female leader, with Golda Meir serving as the country's fourth prime minister from 1969 to 1974, today just three out of 19 cabinet ministers are women, and there has only been one female president of a public university.
Many of the women leading these grassroots efforts toward gender equality admit there's only so much they can do. Real change, they insist, must come from the top. "Only a law will change this situation," argues Rado, noting that when Israel passed a law requiring equal representation of women on the boards of government-owned companies, it brought the rate up from 10 percent to 48 percent. A law requiring companies on the Israeli stock exchange to have at least one woman on the board had a similar effect, she says. "This is the only way things will change."
Yet in the tech community, the "top" isn't just the government; it's the investment community, which is overwhelmingly male. According to CrunchBase, just 7 percent of partners at the world's top venture capital firms are women. Darya Henig Shaked, an entrepreneur and investor named one of the most influential Israelis in Silicon Valley, says the problem is even worse than it sounds. "At the larger funds that manage billions of dollars, you hardly see any women partners, so the actual percentage of women making major investment decisions is more like 1 percent," she says. This isn't just affecting Israeli women in tech, but all women in tech.
The lack of female investors has consequences. In 2017, companies founded by women received just 2 percent of global VC dollars. In Israel, male-led startups raise twice as much per financing round than female-led ventures, according to a study by the Israel Venture Capital Research Center.
Henig Shaked, based in Palo Alto, is the CEO of Stride Ventures, which supports women entrepreneurs, and the founder of WeAct, which brings delegations of female founders from Israel to Silicon Valley to meet with influential investors. One of those founders was Adi Eckhouse Barzilai, whose startup RealFace was acquired by Apple in 2017. "It's hard for everyone to raise money, but for women it's even harder," says Henig Shaked, who previously worked at Vital Capital, a $350M international impact investment fund. "Investors say that by the time women get to them, they are at a much higher level than men because women have to cross more hurdles before they get there."
Despite those hurdles, Israeli women boast some unique characteristics that might make them feel more empowered than their American peers. For example, after graduating from high school, both men and women are required to serve in the Israeli military. "I was an officer, and many of the women I know were officers or commanders of male soldiers," says Henig Shaked, who credits her military service with giving her more confidence and perseverance. Fifty percent of Israel's 8200 unit—known for producing some of the country's leading entrepreneurs—is female. "Once you start at the top of the Israeli military at the same level as men," says Henig Shaked "your whole mindset is different. You don't feel like you're not good enough." There is also the distinctly Israeli mentality of chutzpah, which leads many here to believe they can do anything better than you—even if they can't.
At the same time, many Israeli women lament that companies here are less motivated than American companies are to tackle the gender gap. When it comes to inclusion, says Henig Shaked, "I think Silicon Valley is more advanced. They have heads of diversity, which few companies in Israel have." Almost all of these nonprofit organizations and groups of women are supported by major American tech companies that give them free space to hold events. For example, Microsoft hosted the Yazamiyot accelerator; Google hosts their campus for moms; and LeadWith's babies events are hosted by Facebook. According to Weinberg Harel, at Microsoft's Tel Aviv office, where she works, and at Google's Tel Aviv office, where she has friends, company leaders and even team leaders are very cognizant of making sure projects and teams are gender diverse.
After all is said and done, however, the fact that gender equality is good for business may be the tipping point that changes the game.
Numerous studies have shown that women are better business leaders, offering investors better ROI. A 2015 study found that female CEOs in the Fortune 1000 produced three times the returns as S&P 500 companies run predominantly by men. According to a study by Boston Consulting Group, businesses founded by women deliver more than twice as much per dollar invested than those founded by men, "making women-owned companies better investments for financial backers." And the Small Business Administration also found that investing in women-led enterprises improved the performance of venture firms.
"One hundred years ago, women couldn't vote, and in 100 years this conversation too will be irrelevant," says Henig Shaked. "The question is will we have to wait 100 years to see that difference. I think it will be much sooner than that."