Last summer, Riverwood Capital made a $50 million investment in recruiting software company Greenhouse due in large part to the company's new product that enables inclusive hiring practices.The product, known as Greenhouse Inclusion, was created in partnership with consulting firm Paradigm.
D&I In Practice founder Terra Terwilliger (TT) sat down with Greenhouse CEO Daniel Chait (DC) to find out more about the product and what the future holds.
TT : We were excited to see the $50 million investment from Riverwood Capital. Was your focus on diversity and inclusion one of the key deciding factors for them?
DC: I think so. I think any investor obviously wants to look at the business fundamentals...But beyond that, they want to know that they're investing in a winner. They want to know that [they're] investing in a company that's going to be a top one or two in their category, and why that is going to happen.
We try to project forward, and say, 'What's going to set apart the winner in the minds of the marketplace? Is it the idea of more objective hiring? Of better information about your overall process, helping to build a stronger team, and bringing the latest research into overcoming really deep-seated problems in humanity as far as how we make decisions and how we interact with other people?' I think our focus on enabling inclusive hiring is more fundamental and more powerful than a lot of other things that people are doing.
TT: How are you doing that internally, specifically from the inclusion perspective? How are you thinking about prioritizing your features? How do you know what is going to have the most impact?
DC: It turns out with any product, and this one no doubt, once you get it in the hands of customers is when you start learning. We were very careful in the roll-out of this product, in particular, to make sure that we've done it in a way that helps us accelerate our learning, more so than let's shove it out the door as fast as we can. The initial roll-out was a tightly controlled cohort of customers who were able to talk to us about important factors like, who's the executive sponsor for your D&I efforts? What program of change do you have in mind? What outcomes are you trying to achieve and how are you planning to measure those? They had to have already thought about all that stuff because what you didn't want was a company who was like, 'Yeah, diversity is really important to us. It's in the news, and if I buy this, I can check it off and move on.' No...That's not going to get either of us where we're trying to go.
TT: What did you think would make a difference but didn't?
DC: A lot of what we did was using nudges as an in-the-moment intervention (see picture for an example.) It turns out that people don't read stuff on their computer screen, so it's hard to get their attention [with content in the app.]
On the other hand, we've probably underestimated the data side of it. At the end of the day, a huge part of what customers are actually looking for is just data. EEOC regulations are quite rigid, and so if you have any EEOC form on your website, that's not giving you the insight that you want. But the way we built it, they can get exactly the data that they want from every stage of their funnel and really start to understand: 'We have a problem in this front office at the case study interview,' or 'We actually have a top of funnel problem in this job category, in this territory.'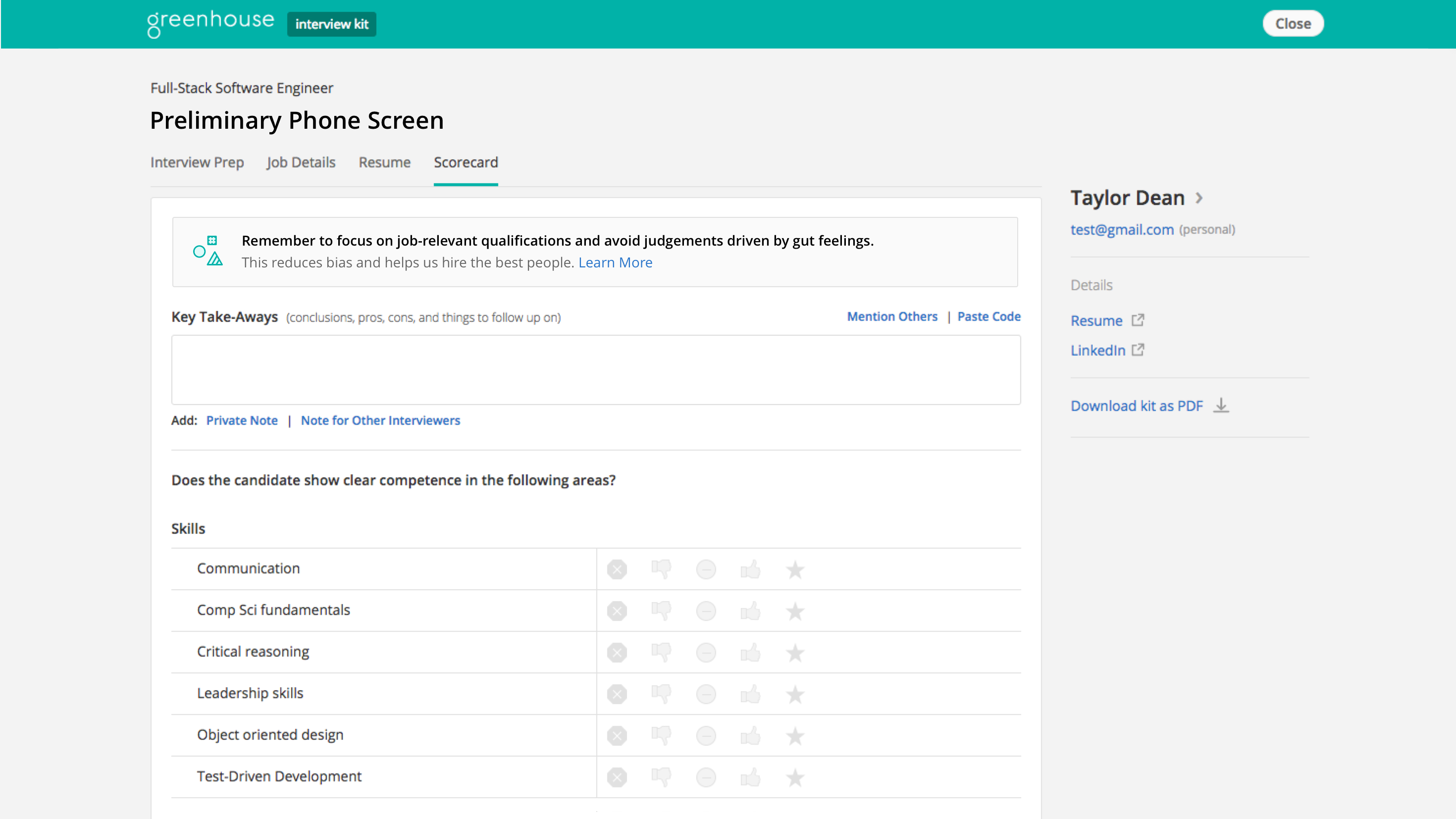 An example of a nudge in Greenhouse's inclusion software that reminds interviewers of where to focus and what to ask.
TT: How do you think about diversity and inclusion internally at the company?
DC: This is going to defy quick summarization as you might imagine, but obviously it's something that we think a lot about. We have a dedicated task force on diversity, equity, and inclusion. The executive sponsor is Jon [Stross], co-founder of our company, so it has executive attention. We do regular surveys for employee engagement and for inclusiveness. We share that information broadly with the company.
One thing that we did that's neat—it's a simple thing—is we asked our recruiters to create a diversity sourcing program for every job that we open...When jobs get submitted, someone has to approve them—ultimately me. If there's no diversity sourcing program approved, the job won't get approved.
TT: Do you find that your employees believe that products committed to diversity and inclusion is a selling point? Is it a value proposition for people?
DC: Yes. In fact, before this meeting, I had a one-on-one with one of my sales reps. On his own, he said, 'Yeah, the fact that we lead with inclusion is undeniably a huge help to us in the market.'
I feel like we've done the very beginning of what Greenhouse Inclusion ultimately could become. It's a good product as it stands today and it solves real problems, but it still doesn't do much in many areas of inclusion that we could tackle...Because a product like this has never been built before, there's no roadmap. It's not like we're looking at the competitors, and going, 'Boy, we've got to have these six features that they have.' We're creating it.
We're really motivated to keep investing in this product and figure out the ways we can have more impact. There's a huge runway ahead of us, and we're making it up as we go.
This interview has been edited for clarity and length.